Dubai-based hotel and resort group Five acquires an Airbus A220 business jet from Swiss group Comlux.
The jet – dubbed ACJ TwoTwenty – will feature a VIP cabin interior specified by Five from January next year and enter service with the company in 2023.
Five says the plane, powered by Pratt & Whitney PW1500G engines, will be listed on the Maltese registry as 9H-FIVE and based at Dubai World Central Airport.
The company unveiled the deal at the Dubai Airshow.
Five plans to configure the plane with 16 seats, a dining table for eight people, a master bedroom with bed and shower and a kitchen.
It will feature electrochromatic shades and high-speed connectivity capabilities as well as two 55-inch screens.
"Five aims to provide its diverse and loyal customer base with a unique journey," the company said. "This jet will fly across the globe, carrying guests in enviable style with an excess of entertainment options."
The ACJ TwoTwenty cabin will allow its passengers to "dine, be entertained and invigorated in the most opulent and private environment," he adds.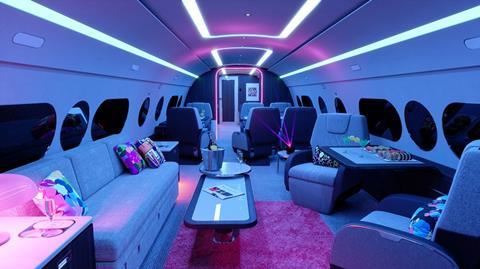 Comlux Aviation will operate the ACJ TwoTwenty under an exclusive charter agreement.
Five's portfolio includes the luxury Palm Jumeirah hotel in Dubai. President and founder Kabir Mulchandani said the acquisition of the aircraft will allow the company to "merge" its hospitality and entertainment, resulting in "an unparalleled and globally disruptive aircraft".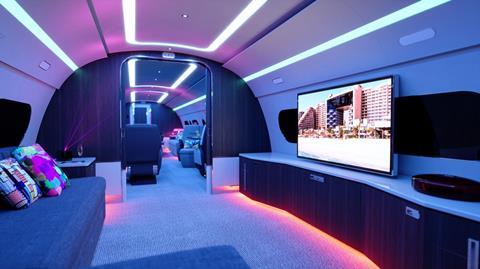 "[We can] seamlessly organize an exclusive and luxurious lifestyle experience both on the ground and in the air, "adds Mulchandani.
Comlux Aviation became the launch customer for the ACJ TwoTwenty, based on the A220-100, last year. Comlux Managing Director Richard Gaona describes Five's new aircraft project as "exciting".